NOVEMBER NEWS 2018 Our Biggest Holiday Appeal is here. How can you help?
NOVEMBER NEWS 2018
As we enter this Holiday season Monday Night Hospitality offers many their only special meal of the week – lovingly served by volunteers on china, with stainless flatware, tablecloths and flowers. These touches make all the difference and highlight a restaurant quality meal such as last weeks Moroccan chicken thighs, elbow macaroni and mixed vegetables. Kudos to our cooking staff. All of this can help restore hope and faith in the future – something that can be an elusive quality for many of our guests.
Everyone of us does this work because it must be done. Our guests are not lives to be thrown away, but rather lives to be cherished and restored. This is why we return week after week to serve those in need. Our senior social worker, John Sheehan has often said that the three things that can help ward off dementia and other mental illnesses are Nutrition, Social Contact and Consistency. Our incredible chefs take care of the nutrition, our guests and volunteers combine to offer social contact and the consistency is provided by the regular service of our volunteers.
Our fund raising is designed to enhance the Nutrition element. This year the funds raised will be used to continue the meal service and replace our aging and inadequate refrigeration/freezer food storage. We want to take advantage of offers of organic vegetables and fruits from local farmers to add a Monday Night Food Pantry. In addition to this we will qualify for United Way Grants and be able to accept bulk meal ingredients from City Harvest and the food bank. 23,000 meals is quite an accomplishment but we hope to do even more in the coming years. With organic food we can add nutrition classes and City Harvest will support cooking classes for our guests. Our social workers can make progress in restoring the lives of our guests. Local middle and high school students will be able to volunteer to prepare food pantry bags. Some of the farms offering produce are veteran run and provide jobs in New Jersey and Connecticut. Supporting them will be very gratifying.
You can make a difference today! Donate to my Crowdrise page or even better you can start your own Crowdrise page (details below) for Monday Night Hospitality. It will take all of us to realize the goal and many, many Crowd rise pages. Here is the bribe – not only will you feel good but everyone that sees your page – family, friends and business associates will know you support this vital work AND you may win Jet Blue tickets to anywhere they fly.
Our very best wishes for a joyous Holiday and the best of Thanksgiving celebrations.
We will be serving on both Christmas Eve and New Years Eve. What a great way to end the year!
Love,
SPECIAL INVITE TO MNH HAPPY HOUR
Colleen Sawyer to host Happy Hour to raise funds for her Crowdrise

Colleen Sawyer is most often seen serving on the Express Tables but she has also been a consistent fund raiser and you will see on page on our Crowd Rise Holiday campaign. Happy hour is at the Public House (140 East 41st) on Wednesday, November 28th from 5:30pm-8pm. The $20 cover will go to MNH. We hope to see you there. It is always fun to meet outside of MNH and catch up on what is going on in our lives – outside of Mondays!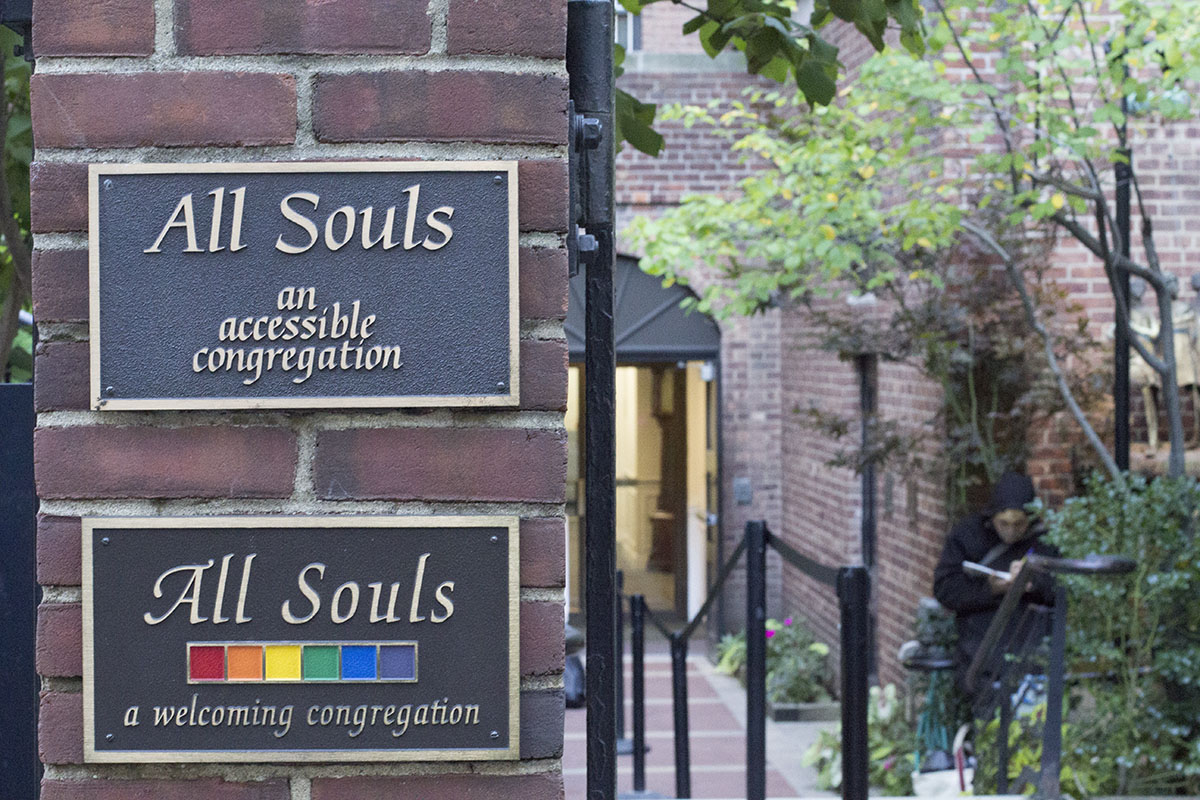 CONSTRUCTION COMING TO ALL SOUL'S
Our home is about to undergo a large construction project
Any building constructed of brick in the 1930s is by definition sturdy. All Souls is such a building but need repairs that are going to be made over the next two years. The restoration will include a new roof, pointing up of the bricks (to prevent water damage), a new air conditioning system (which will make our Monday nights in the summer far more pleasant), new sewage system for our kitchen and for our chefs a fully functioning new ventilation system. We will be cleaning and updating the commercial ovens as well. The restored elevator is part of that work and available to our guests now. Monday Night Hospitality's home should function far better in the future years. It is up to us to help pay for a new refrigeration and freezer combination. It will save our meal program and Friday Lunch an estimated $9,000 to $20,000 a year by letting us buy for a month at a time and accept donations from organic farms, City Harvest and the NYC Food Bank. Donations of pallet sized quantities will make the work of our chef's much more efficient and avoid the expense and huge task of shopping weekly. Monday Night will operate throughout the construction – we did twenty years ago when the current kitchen was constructed and we will again. We will not miss a meal.
VOLUNTEER SPOTLIGHT
Société Générale Celebrates the Holiday Season Serving Our Guests
The legal staff of Société Générale joined us to serve a meal at the end of October. The end of each month can be very hectic and our guest count soars (to over 400) and guests run out of funds. We help them last until the next month but it takes extra work. Caroline Thomas' associates were up to the task and their enthusiasm was evident in every part of the service. Outfitted in very fashionable black company tee shirts and sporting smiles all night we are so very grateful for their support. Think about adding your company to our honor role of generous corporate partners.