SEPTEMBER NEWS 2018 Soups a winner as temperatures cool
SEPTEMBER NEWS 2018
FALL AT MONDAY NIGHT HOSPITALITY
As the cooler weather approaches our work in serving those in need in New York City starts with our planning for our December/January coat drive. Last year we gave away close to 400 coats along with socks and scarfs. We hope to have some hand knitted hats to distribute and thanks to donations by our volunteers we will be able to augment the donation of coats by New York Cares. Recently Tom Dougherty joined us – he was the original driving force for this event and having him back will make it that more special.
Starting this Fall, we will also be facing some construction challenges at All Souls over the next two years. We hope to keep serving in the face of major work on the roof, air conditioning, restoration of the bricks on the church walls, new ventilation in the kitchen, new bathrooms in the mezzanine (these are the main rest rooms used by our guests and are quite dated), new sewer lines and other much needed renovations. The new elevator (celebrated in this Newsletter) is just one example of the positive impact this work will have on our ability to serve those in distress. We will plan around the construction and in all ways trying to minimize the impact on our guests.
Our own Fall fundraising will be dedicated to rebuilding the refrigerator and freezer. These units are no longer dependable and if expanded we will be able to accept larger quantities of fresh food from City Harvest. We also will be able to avoid the current method of shopping weekly – giving us the chance to create new menus and save many thousands of dollars annually. The expansion will help our companion food program, Friday Soup, as well.
Of course, we will continue to support the meal program and having our social workers present at every meal. More will follow but feel free to talk to me about it. Our friends at Franklin Templeton funded the purchase of a commercial refrigerator which is on the first floor and will play a vital role in helping us cope with the construction.
Health screenings that have become a key part of the MNH outreach effort will begin again in October and continue on a monthly basis. If you haven't seen the work of the medical students from the CUNY medical school, you need to peak into the Gallery (where we keep our coats) when they are present. The dedication that is so evident on the faces and in the love that they show in talking with our guests. There is truly real care present. I have great confidence that our future medical leaders will come from these students and that they will make a real difference in the lives of those they treat.
Love,
A GUEST GETS HIS OWN APARTMENT
One of our Guests gets his own Apartment

The process of helping people is forever challenging. Monday Night Hospitality funds the presence of two social workers (John Sheehan and Irene Friedland). They make a tremendous addition to the meal program and we can be proud of their services. The guest pictured, Alan served in the US Marine Corps and has a long work history. Last fall his dad passed away and he no longer had a place to live, so over the next 8 months Alan went to several different NYC Shelters with the hope of finding permanent housing. Our social workers and the meal program supported him through the ups and downs.
A month ago, success came as he was awarded an apartment by the Veterans Administration. John Sheehan attributes he came in to office at All Souls with a big smile on his face. John Sheehan shares that success with every volunteer on Monday nights. The meals and kindness extended to Alan made the difference in sustaining his morale in the long process of securing an apartment. Alan agreed to let us tell his story here and John feels the smile on Alan's face was truly a great reward for our help. The joy on John Sheehan's face shows a story of a man dedicated to helping our guests.
Nicola Mills will be at the Triad Theater
She sang for our guests on September 24th and was it was a spectacular event. Nicola does more than perform for – she often serves our guests and much like her performances in "A Soprano and A Suitcase" she goes out of her way to connect with our guests. Often, she walks one of our guests, Margo, home and more recently she shared with us her breakthrough with a guest that sat near the stage during her performances. She noticed that he was very distant from the others at his table. It took weeks of work but she managed to engage him in conversation and she was elated to learn from him recently that he found a job in the Midwest and will be departing from MNH dinners. What a wonderful reason to lose a guest and what a contribution from Nicola.
We can support her by buying $15 tickets and attending her concert at the Triad Theater October 27th at 3pm.
Teaming up to make a difference.
Carmel, on the right, comes to us from Ireland. She spent every Monday of a month-long holiday with us, and had Lauren as her team leader each week.
Together, they made their section feel special and cared for. Carmel helped some of our guests get connected with social services. She checked in with them every week and made sure they knew that someone would care for them.
For that and so much more, Lauren & Carmel are very special to Monday Night Hospitality.
Help to keep Monday Night continue the good that is does for the community of New York. Won't you consider donating today?
It may seem small, but it's a BIG accomplishment!
Our elevator is back and not just working but entirely reconstructed with a new interior, cables and new motors. For our disabled and elderly guests this is a big event. It also is a relief to Kathleen Taylor and her staff that brings the ingredients for our meals down to our freezer each week. Celebrating the return of the elevator is Matt O'Neill from our Hospitality Staff. He helped decorate the elevator for our guests. Matt is a regular on the garden staff and is known for his compassion in assisting guests as they wait for a place in our hall on Monday evenings.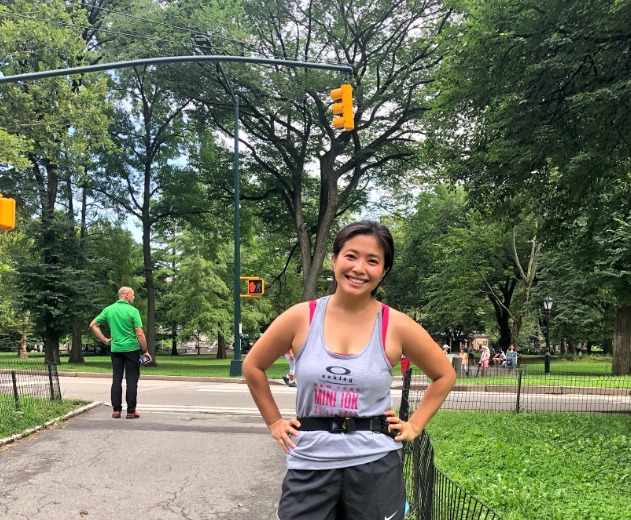 Ellie Windham Raising Money for UNICEF
Ellie has been a volunteer for years at Monday Night Hospitality and is a part of our caring community. She recently decided to make a difference in world by running the 2018 New York Marathon in support of UNICEF, USA. Children all over the world are innocent victims of the world's conflicts and the ambitious leaders of nations that ignore poverty, disease and lack of education of their own citizens.
We can make a difference.
If you would like to support Ellie's efforts you can make a contribution to her team using this link and you can support her on Facebook.