JULY NEWS 2018 Summer in the Garden
JULY NEWS 2018
Summer in the Garden
The garden is a small space in front of our church where our guests wait for one of the best meals in New York City. We could not consider serving over 400 guests each Monday without the hospitality and security efforts of our Greeting Staff. Cool drinks in the summer and warm drinks in the winter go a long way for keeping guests patient as they wait for a seat in the hall. Seniors and disabled are led in first followed by those sitting at our express tables. In inclement weather – be it rain snow, cold or heat, the staff gets the most vulnerable into the chapel and quickly downstairs for a meal.
Lorraine supervises the assembly of 60 to 90 to-go meals so that the option is immediately available to guests that have a difficult time being in a community atmosphere. As guests depart from the evening, we offer bottled water and juice often donated by the generosity of City Harvest and fresh fruit. Oasis Chiropractors provides oranges and other fruit on a regular basis in support of our work.
Monday Night Hospitality is truly guest centric – everything we do centers around providing a truly welcoming moment for those that join us for a meal to a safe environment for our guests, as well as our volunteers. The Senior Minister of All Souls, Rev. Galen Guengerich, joins the hospitality team whenever he can – to extend his welcome to those that come to us in need. The quality of meals are the best in the city (as reported by our guests) – and deserve the wonderful introduction to the night provided by our hospitality team.
We would not be Monday Night Hospitality without these amazing volunteers.
Love,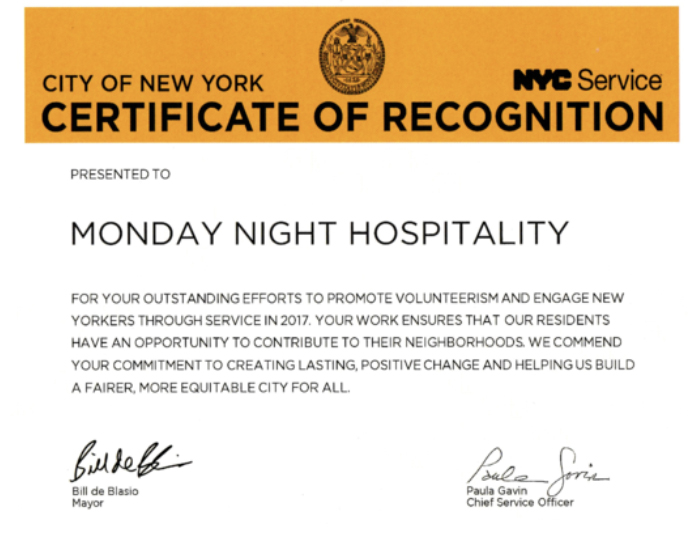 MNH RECEIVES NYC SERVICE AWARD
MNH recently received a NYC award for volunteerism in 2017. The City has been advocating for increased volunteering in New York City with over 1 million reported last year. Acknowledging the importance of your work as a valuable addition to community life in our city is a vital step in engaging all New Yorkers in improving lives.
THANK YOU CORPORATE VOLUNTEERS
Olshan Frome Wolosky LLP & Staff of Penrose
Olshan Frome Wolosky LLP joins us for a MNH Corporate Night
In July an energetic team from a leading NYC law firm joined us in serving guests during the heat wave. They were a great addition – chatting with guests, serving the dinner with great care (despite our temporary use of plastic plates which makes carrying more than one plate difficult) and helping us with clean up.
We invite all of these volunteers to join us again and thank them for their service.
Think about getting a group from your company together to serve and have a fun night helping fellow New Yorkers. Contact Nancy Ellis Yates for details.
Penrose Serving Staff Volunteers
A first for us was having the serving staff from a great local restaurant, The Penrose on 2nd and 83rd, who joined us in serving. For many of us who have learned to serve "on the job" it was wonderful to see how these young adults quickly and efficiently served hundreds of our guests and easily adopted to our row captain system. The Penrose hosted our 2017 Volunteer Awards Night for our Holiday fundraiser and came with a band to make their appearance at Monday Night Hospitality that much more special! They have offered us support in buying supplies and have shared their skill set in dealing with waste water issues and refrigeration. What a great partner to have in this work of serving those in need in New York City.
Thank you Penrose.
NEW FRIDGE! FROM THE GENEROUS FRANKLIN TEMPLETON GRANT
MNH's New Refrigerator is installed and working!
The new refrigerator is upstairs in a small kitchen in the Ware Room. It will hold our milk and other heavy supplies that Kathleen Taylor, our head MHN chef delivers on the weekends. This will help us deal with the dreaded but very necessary loss of elevator service this summer as the whole unit is upgraded and components replaced. The refrigerator is a commercial kitchen model from True – a highly respected company in St. Louis. It is made in Missouri (making servicing and access to parts very simple) and is designed to withstand the heat of a restaurant kitchen. It can accommodate the constant opening and closing of that is required by kitchen staff making meals all day long. It took half of the day to get it professionally installed – with just ½ inch of clearance in the door way – but it appears quite happy in its new home. We could never do this work to serve 22,500 meals in 2018 without such vital donations of support.
Thank you Franklin Templeton.
This month we thank Tien for his MNH service and acknowledge his amazing decision to join a group of international health specialists in the South Sudan working to make life better for people suffering from a debilitating parasite.
Since 2016, Tien been scrubbing pots and pans with amazing diligence while staying to help us close up each week. He and Heli make an amazing team assisting our dishwashers in dealing with those things that the machine can't handle. His contributions go far beyond that work – he has befriended Margo (a long time guest) and has been known to frequently escort her home. When our new dishwasher was installed, Tien deciphered the instructions and with experimentation came up with a one page illustrated sheet that the church uses to train new porters.
Tien is on the board of the Peace Corps Association of NYC and has been programming their monthly service events – including hunger alleviation, farm work, animal care, environmental protection, and zero waste. He has personally made recycling a priority at MNH.
Tien will be joining the Carter Center's Guinea Worm Eradication Program in the South Sudan in August. He will manage operations that are close to a major humanitarian victory – the removal of a parasite as a threat to the lives of people in the Sudan. Look to this Newsletter for pictures and stories from the South Sudan. We wish him every success and applaud his dedication to making this world a safer and better place.