APRIL NEWS 2018 Spring Blooms + Deep Sorrow.
Spring Blooms + Deep Sorrow.
April has brought us much happiness and sorrow in our volunteer community with expected Spring babies, successful health screenings and an unexpected passing of a fellow volunteer.
Two Red Apron volunteers will be expecting the arrival of wees ones, and we are over the moon in throwing baby showers compliments of Nancy and getting them dressed in mini red aprons. We wish them the best in welcoming new family members.
Our health screening program held once a month, now attracts guests on a regular basis and some have been treated at the IFH clinic for serious issues as a result of their tireless work. It is wonderful to see young residents - future surgeons - eager to apply the skills that they are learning at CUNY Medical School towards people in need.
This month we are also coping with the loss of a loved worker in our kitchen, Scottie Sowers. A large hole is ever present in our lives with his passing, and his love for Monday Night Hospitality will remain with us for as long as we do this work.
Rev. David Robb shared this reading by Alfred Louis Stevenson who wrote about a loss of close friend and it speaks so well of Scottie who as an actor was dedicated to his craft (as well as his intense dishwashing skills).
"That person is a success who has lived well, laughed often, and loved much; who has gained the respect of thoughtful men and women and the love of children; who has filled his niche and accomplished his task; who leaves the world better than he found it, whether by his work, his inspiration, or his dedication; who never lacked appreciation for earth's beauty or failed to express it; who looked for the best in others and gave the best that he had."
He gave the best that he could. We will miss you Scottie.
With thanks to all,
Mark your Calendar! All Soul's invites Outreach Volunteers to an Appreciation Party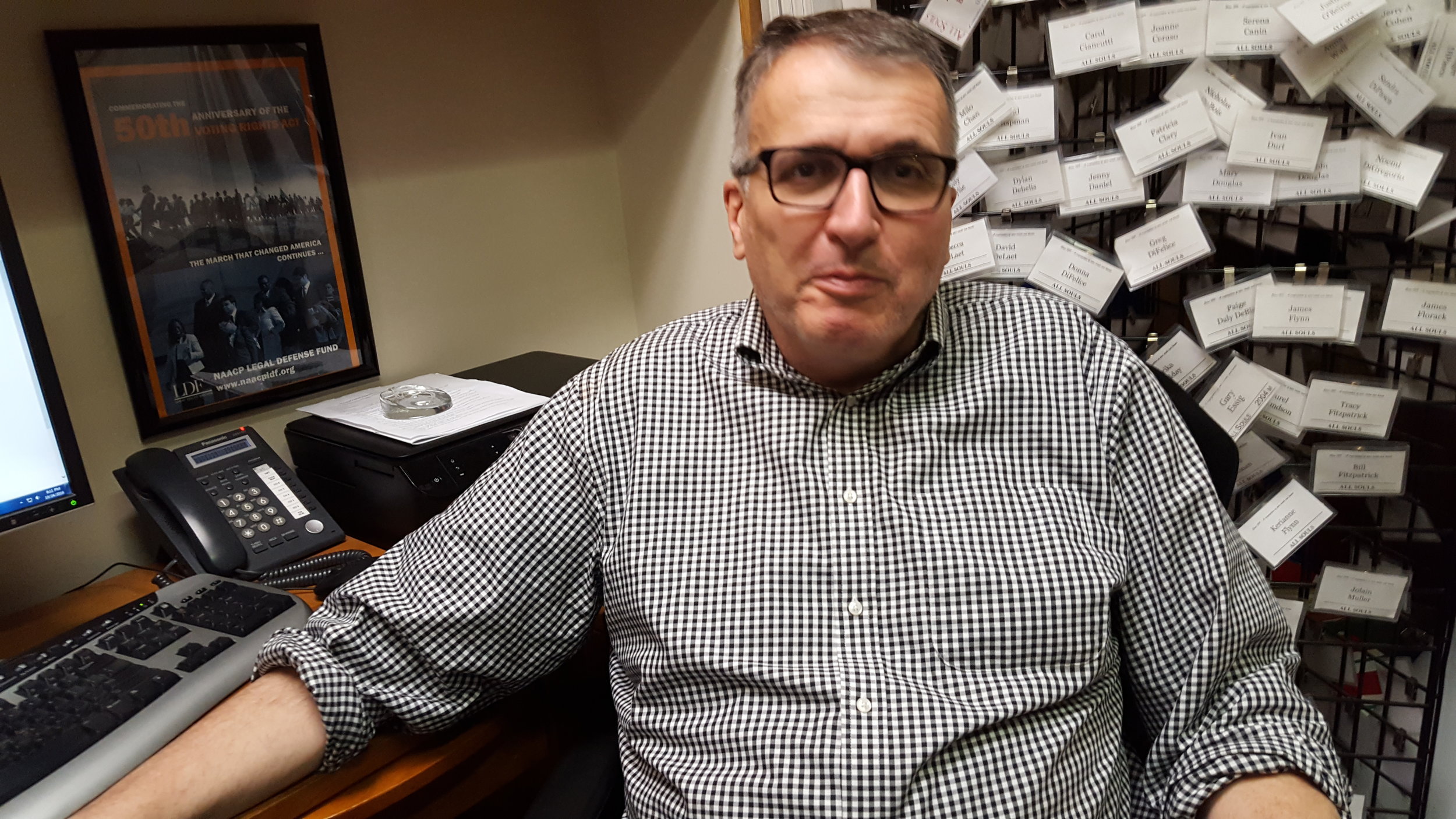 Poverty, Homeless and Monday Night Hospitality
Monday Night Hospitality guests are unified by one common denominator. They are "poor ". The condition of poverty affect poor people in almost all areas of life. Poverty affects their health, housing, and employment opportunities. It is has all of the symptoms of a disease as it ravages the body. Unfortunately, our society treats other diseases that are the result of poverty rather than poverty itself.
But perhaps saddest of all, is how poverty effects the poor's ability to eat! Although most poor people may not be dying of starvation in America, poor diet and the scarcity of food has a devastatingly affect on their health in some obvious ways and also in ways that we would not even suspect. The stress of having to figure out if you can eat every day, ravages both one's mind and body. In addition to finding a way to get meal every day, the homeless struggle to find a safe place to sleep! The combination is devastating.
As social workers, we confront these realities head on! We do this by helping the guests that come to us to secure benefits such as public assistance, food stamps, Medicaid, Social Security and veteran benefits when applicable. We also assist them in find other food programs and even referrer them to places where they can receive clean clothes. By helping our guests, we are demonstrating that all human beings should be treated with respect. The lack of this essential in their lives of this essential element has a devastating effect on their emotional wellbeing.
For those guests who live on the street, we assist them in getting emergency housing through both drop-in-centers and shelters. Many are apprehensive about sleeping in NYC shelters - for good reasons. But the alternative is a life on the street isolated from human contact. I am adamant that we become gate crashers and not gate keepers. We as a community must advocate for them (be their voice) in the complex and at times rigid system of housing services. Often we appear on their behalf but each case takes time and effort and there are so many that come to MNH are desperately in need of housing.
A majority of the homeless guests that we assist suffer from serious mental Illness - in addition to being at the bottom of the poverty scale. These co-occurring disorders are incredible difficult to try to manage! In addition to providing a great meal on Mondays, we also provide the absolutely needed socialization for people who are so very isolated from society. Socialization is the first step in getting our homeless guests to accept help. Our goal with the seriously mentally Ill is, of course, to get them treatment. Most are extremely resistant to accept any suggestions of mental health services. Many New Yorkers shun the homeless! They become outcasts! We must continue to welcome them on Monday Nights!
In working to help the homeless, we recognize that helping them on the issue of mental illness is always a struggle. Our first step is always to establish a relationship of trust. This is the opening and it is far from easy to accomplish. It takes many interactions but the wonderful meal served with compassion is the perfect beginning for us to start to help them! The problems people face are much more than individual but rather symptoms of the larger problems of our country. We help people by improving the quality of their lives in various ways that are tangible to them! We also give them a safe place to share their feelings and most importantly we provide hope!
I wish hope was contagious regretfully it's not unless you promote it. The guests that we try to help each week can be very frustrated by the lives they lead! Poverty is an incredible! It wears people down and can affect their behavior and personalities in truly evil ways! As a social worker, I see it at times as a symptom of poverty, homelessness and other disorders! Together with the kindness displayed by every Monday Night Hospitality volunteer, we can help them overcome some of the mental barriers to moving forward by offering them hope. I am committed to doing everything possible to help them!
All Programs can improve, even those with a long history of caring like Monday Night Hospitality. The expansion of our services is severely impacted by the lack of space! One possibility is to continue working with other community partners to extend the services of All Souls to other locations and spaces. Certainly the partnership that brings health screenings monthly to our guests from IFH and CUNY Medical School is a breakthrough for our guests.
John Sheehan, LMSW, Senior Social Worker Monday Night Hospitality
Congrats to our Regular Red Aprons Megan + Sarah!
Megan and Sarah will be welcoming two little Red Aprons to our team this summer. Both have been long time members of our community and have seen lots of positive life changes since they started serving with us. We wish them both all the very best for this next chapter. They have been great volunteers and no doubt will be great Moms!!
Goodbye to one of our own dedicated volunteers.
Our friend and long time volunteer Scott Sowers, 54, passed away suddenly on April 1 of heart failure. Scotty came to Monday Night Hospitality on the recommendation of another volunteer and soon became a larger than life presence in the kitchen. Those who worked on cleanup will remember him on the dishwasher and his ringing voice booming out "Sillllverware!" or "Hot, wet and heavy coming through!" along with all the bright colors and patterns in his clothes. When he wasn't working at MNH, Scotty was a talented actor on and off Broadway, in movies and on television. If you've watched Law and Order you've probably seen him (he did 13 episodes) and many of you joined the MNH trip to see him in Hand To God at the Ensemble Studio Theater. He was also a talented narrator of over 75 audiobooks, winning multiple awards, most recently for narrating Little Big Man by Thomas Berger. Memorials are being planned in NYC (date and time to be announced) and his home state of Virginia on May 24th.
Scotty, we love you and miss you.
If you'd like to donate towards his final expenses, his family has set up a GoFundMe page: https://www.gofundme.com/LoveYouBigger-ScottSowers
You can help!
Every Monday evening we try to provide plastic containers to those who want to box up or bring extra meals home with them. The issue is we always run out! Won't you please collect your take out, yoghurt, and any other plastic containers kindly wash them thoroughly and bring them with you on your next evening with us.