MARCH NEWS 2018 We will see it through!
Our amazing Monday Night Hospitality volunteers have seen us through three recent water issues demonstrating the dedication to our mission through any circumstance. It is a true gift, and each and every volunteer whether in the kitchen, garden or serving meals should be congratulated for their hard work.
This month's corporate sponsor Monday Properties brings new energy to the evening and this is their second event with us! We are continually amazed how many supporters Monday Night Hospitality has that believe in our work directly or indirectly. Read below about how Steve Butman's staff donated to MNH as a way of thanking him for always being there for them. Checks were also received from AIG, Deutsche Bank and Goldman Sachs in their corporate matching funds. Please see if your company has a matching donation program - we are a non-religious 501c3 that meets the charitable requirements of most if not all corporations.
Thank you for helping us to provide meals and social services to over 425 guests this past week and know that each of you does make a difference and combined we are making New York City a friendlier and more caring place to live.
We prove each week that New Yorkers can live together in a mutually caring and giving environment.
With thanks to all,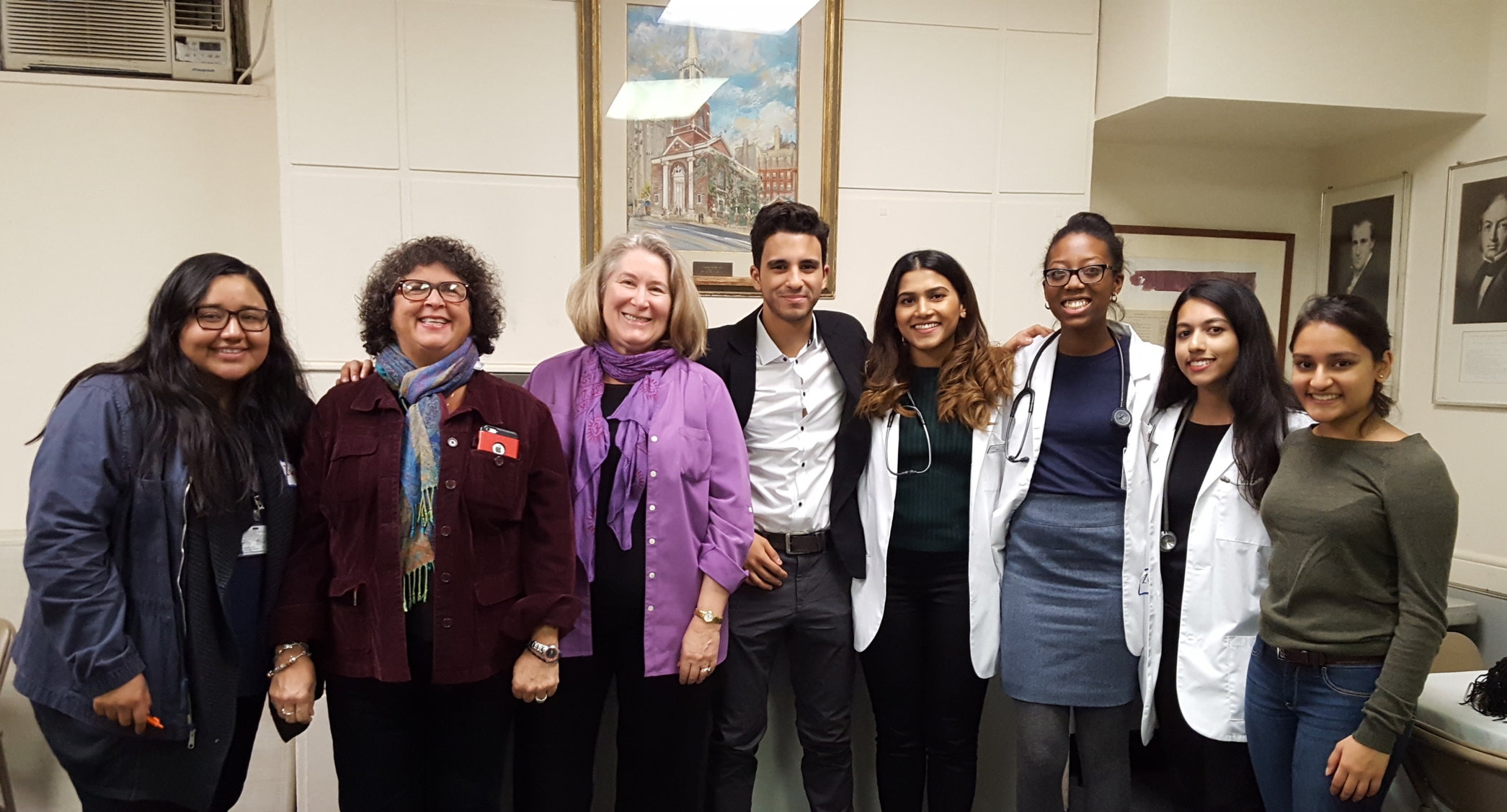 Thanks to your donations, guests really appreciate MNH Health Screenings
All Souls' member Dr. Holly Atkinson and her team of medical students from the CUNY School of Medicine, in partnership with the Institute of Family Health (IFH), now conduct monthly blood pressure screenings for our guests at Monday Night Hospitality. She is pictured with some of the students and Ms. Guedy Arniella, LCSW, Director, Community Health & Outreach (2 nd from left), and Ms. Zaira Hernandez-Cinto, Immigrant Health Outreach Coordinator (far left), from the IFH. The screenings take place in the Gallery room (our former coat check and orientation room) as it is best suited for the task. Our social workers are split up — John Sheehan joining the screening group and Irene Friedman seeing guests at the office near reception.
More and more guests are availing themselves of the blood pressure screening. About 15-20 guests each month have sought screening or just dropped in to talk. Monday Night Hospitality joins in congratulating all of the medical staff on their dedication to serve — they are volunteering just as the rest of us — to make New York a more loving and safe place for all. (By the way, the medical team is looking for more volunteers, particularly physicians or nurses to help with the screenings, so if there are any health professionals who are interested, please send an email to Holly at holly.atkinson@reasonmedical.com .
Monday Night Hospitality volunteer orientation at 6:40 PM will still be in the large Gallery space. This space will then be dedicated to the health screening. Coat check on the evenings when the health screenings take place will be in the Minot Simons room next to the kitchen and that is where supplies such as aprons and gloves will be available all evening. Volunteers are asked to wait in this room until the orientation begins.
March 12th brought us a team of 15 enthusiastic volunteers from Monday Properties, a Manhattan Real Estate Investment firm and F Factor Nutritionists. The team brought their A game with custom made shirts that showed this team was ready to serve and give back to their community. Tanya, one of the nutritionists said, "We do a lot of work in hospitals and community spaces and we have never seen this high a level of food served for nutrition and taste." The team gave it their all and promised to come back and serve with us again in the future. Thanks to all who showed so much compassion and soul for our service and our guests.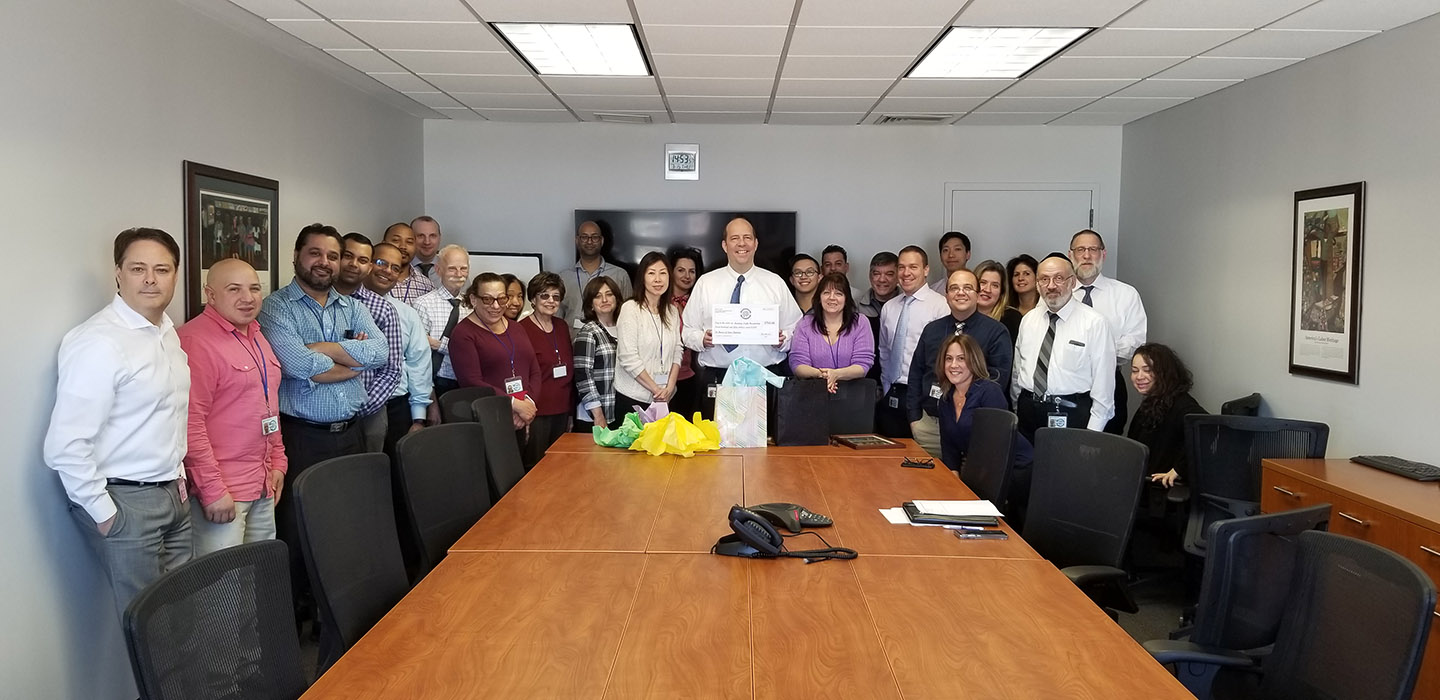 Steve Butman's IT Staff Honored him with a Donation to MNH
Steve Butman, our manager of the MNH Greeting Staff, was honored by his staff with a donation to our work. Steve has become the face of Monday Night for our guests as he stations himself at the gates (regardless of the weather) and greets our guests in many cases by name.
It is apparent that Steve really cares - about our guests, his volunteer staff and his co-workers. Warm greetings and hospitality at the entrance makes the task of serving much easier in the hall. Guests are told the menu of the night, served a hot beverage and know that we are dedicated to serving them regardless of where they came from. Our guests only come in as seats are available. Steve (in the garden) and Kamal (seating guests in the hall) communicate via radio - so all guests are escorted to their seats. His work is not over until the last guests leave. Each are given any donated food or fruit as they leave and late guests are provided meals-to-go.
We thank Steve's co-workers for their generous gift.